Salmon Arm Scarecrow Contest Sept. 15-Oct. 15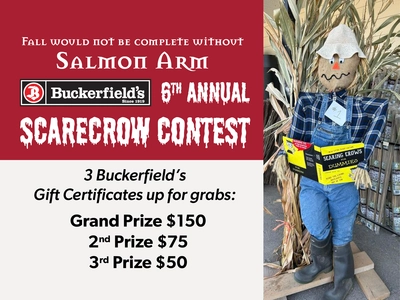 Fall would not be complete without Salmon Arm Buckerfield's 6th Annual Scarecrow Contest!
Let your imagination run wild! Gather up your supplies and enter our 6th Annual Scarecrow Contest!
There's NO entry fee. Your creation must be suitable to stay out in the elements. Get creative and use supplies salvaged from the barn, garden shed or your kid's closet! Borrow Grandpa's old straw hat, maybe Grandma's old apron... even the dog's bandana!
Youth groups, classrooms, service clubs, organizations, families, individuals & businesses are all invited to participate.
3 Buckerfield's Gift Certificates up for grabs:
Grand Prize $150

2nd Prize $75

3rd Prize $50
Winners will be chosen by 'People's Choice'. Vote at the store or on the Buckerfield's Salmon Arm Facebook page.
Bring in contest entries for display Sept. 15th to Oct. 15th.
Winners will be announced Oct. 28th.
Location: Salmon Arm BC