Saanich Assistant Store Manager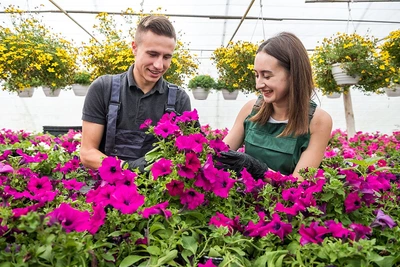 Do you have a good working knowledge of pet, garden, farm, feed, and livestock products?
Buckerfields Saanich is seeking to hire an Assistant Store Manager to lead our fast paced, growing, knowledgeable team, and effectively manage our ongoing retail and warehousing operations in a safe and healthy manner.
Long before sustainability became headline news, Buckerfields was a pioneer in providing home, garden, and farm products to customers who know that true value is found in quality supplies that benefit our families, our animals, and mother nature. Our staff are happy to share knowledge and help our customers with their latest projects. We're here to take care of our customers - it just comes naturally to us. If this sounds like you, apply today!
What We Offer:
Competitive base salary and opportunity for substantial on-target bonus – ask us for more details!
Extensive health and dental package after the required waiting period *
6% employer contribution to a group RRSP after the required waiting period *
Generous employee discount!
Paid vacation and stat holidays
Opportunity for additional training and certification
*Benefits are subject to change at any time, at the sole discretion of the Employer
Responsibilities:
Under the direction of the Store Manager, the incumbent will be responsible for the effective and efficient management of all retail and warehousing operations at Buckerfields' Saanich Store location.
The objective of this position is to assist and support the Store Manager with organizing, directing, and controlling all operations required in:
Providing outstanding customer service,
Achieving sales and gross margin targets,
Managing inventory levels and improving inventory turns, and
Managing staff and staffing levels,
Consistent with the short-, medium- and long-term goals, objectives, and budgets of the Company as a whole.
Provide substitute support for other positions / areas / levels of the store, as required to maintain operations
May be required to travel and provide additional support to other Buckerfields' locations, from time to time
Other duties as assigned by the Store Manager
Qualifications:
Completion and certification of Grade 12 Diploma, or equivalent
Experience with inventory management, variance tracking, ordering and invoice posting
A minimum of three to five years of retail experience with increasing levels of responsibility
Knowledge and experience with computer software, including Microsoft Office (i.e. Excel, Word, Power BI, etc.), Counterpoint, etc
Excellent customer service and merchandising skills, and ability to understand customer needs and the local customer market
Strong ability to effectively lead, coach and inspire a positive team of employees in a fast-paced, environment
Exceptional organizational skills, time management skills, and the ability to multitask
Ability to exercise sound judgement and make rational decisions
Willingness to obtain Veterinary Dispenser certificate and Pesticide Dispenser certificate
Availability:
40 hours a week, minimum
Days and hours of work may vary and employee will be required to work weekends and statutory holidays, as required
Please contact Jeff Reid at Buckerfields Saanich to apply for this position or to request additional information.
Job Type: Full-time
Salary: $48,000.00-$52,000.00 per year
Apply to join our team in Saanich