Potatoes grow best in cooler temperatures, so it is best to plant potatoes when the temperatures are still cool; early in the spring after the last frost.
Potatoes are grown from tubers known as seed potatoes and can be purchased at Buckerfield's in early spring.
For an earlier and a higher yield crop, sprout potatoes 3-4 weeks before planting them, by placing them in a cool unheated room, out of direct sunlight.
Here are some simple steps to a winning potato harvest!
Planting:
Potatoes should not be planted in the same spot every year.
· Prepare the garden bed by loosening the soil and adding a layer of compost.
· Plant in well-drained soil in full sun. Fertilize with a low nitrogen all- purpose vegetable food.
· Plant potatoes in individual holes or in rows 12 cm(6") deep, with sprouts facing upwards. Space 30 cm (12") apart and leave 60 cm (24") between rows.
· Cover with at least 2.5 cm soil.
· When leaves start emerging, hill the soil up against the plants and repeat about three weeks later.
· Be sure to provide adequate water during the growing season.
Harvesting:
· Harvest new potatoes about 10 weeks after planting when small for best flavor. Cook and enjoy!
· Harvest winter keepers after the vines have died and before the first frost.
· Once mature, potatoes should be left in the ground for a couple of weeks allowing the skins to properly set, increasing their storage ability.
· Store in burlap, paper or cardboard boxes in a dark, cool, dry, well-ventilated area. Keep from freezing. Avoid storing in plastic materials as these promote moisture and potatoes could rot.
· Early potatoes do not keep as well as later main crops.
Seed Potato Favorites
100 % Certified Canadian Seed Potatoes
Bintje
Color: Yellow skin / yellow flesh /medium sized potatoes
Season: Main crop
Excellent cooking and fry qualities
Desiree
Color: Red skin / yellow flesh / medium sized potatoes
Season: Mid-season
Wonderful for baking and lovely mashed
Kennebec
Color: white skin / white flesh / large sized potatoes
Season: Mid-season, excellent storage, high yielding
Harvest: 120-130 days
Great for fries, chips, boiling and baking.
Norchip
Color: white flesh
Season: early maturing, mid-season
Excellent chipping, good cooking qualities
Norland
Color: red skin / white flesh / large sized potatoes
Season: early maturing / mid-season
Harvest: 70-80 days, excellent storage
Excellent for boiling / frying, fair for baking
Red Pontiac
Color: red skin / white flesh / large sized potatoes
Season: mid-season
Harvest: 120-130 days, high yielding, excellent storage.
Great for baking, boiling, mashing and french fries.
Russet Burbank (Netted Gem)
Color: Russet skin / white flesh / large sized potatoes
Season: late main crop, good storage, high yielding
Harvest: 120-130 days
Excellent for boiling, baking, french fries or chipping.
Warba
Color: white skin / white flesh with pink eyes / large sized potatoes
Season: earliest of all varieties, high yielding
Harvest: 80-90 days
Great for boiling or baking
Yukon Gold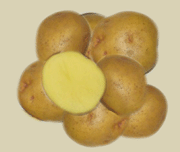 Color: light skin / yellow flesh / medium sized potatoes
Season: mid-season
Harvest: 90-120 days, excellent storage
Great for boiling, baking and french fries.
Specialty Gourmet Potatoes
Buckerfield's offer unique varieties of seed potatoes that are 100% Canadian certified seed. Some varieties are:
· Russian Blue: blue-purple skin and flesh with a nutty taste.
· French Fingerling: cranberry red skin, yellow flesh marbled with red, delicious nutty flavor.
· Seiglinde: golden yellow skin and flesh, creamy taste.
· Banana: yellow skin and flesh, buttery taste.
Growing potatoes in containers
Container gardening isn't only for gardeners with limited space, but for gardeners who want to maximize their yields in a smaller space.
Select and prepare a container
The larger the container the more potatoes you will be able to produce.
· Use a 50 gallon barrel, a large trash can, a half whiskey barrel, or purchase a potato planter. Just about any 2 to 3-foot tall container will work.
· Good drainage is critical for the cultivation of healthy potatoes so you'll want to cut or drill a series of large drainage holes in the bottom and bottom sides of your container.
· Alternatively, you can cut out the bottom altogether and place it on a well-drained surface like your garden bed, or place the barrel on blocks, above the ground.
Choose your favorite seed potato and plant
· Fill in the bottom of your container with about 6 inches of loose planting mix and compost. Place seed potatoes on the top layer of soil, about 6 inches apart.
· You can use the potato whole or cut into smaller pieces leaving a few eyes or sprouts on each piece. Loosely cover the potatoes with 6 inches of your soil and compost mix.
· Water thoroughly, being careful not to overwater.
· Place container in a spot with full sun.
· When the sprouts have grown to about 6 to 8 inches, add another layer of soil and compost mix covering about one-half to three-quarters of the visible stems and foliage.
· Repeat this process of allowing the sprouts to grow and then covering the sprouts with soil and moistening the soil as the plants grow up toward the top of the barrel.
Harvesting Potatoes
The plants will flower indicating that you have growing potatoes. When the plant turns yellow and dies back, your potatoes are ready to harvest.
· You can simply harvest your potatoes by tipping over the barrel and sifting through the soil.
· Cook and enjoy!
Buckerfield's Ltd. hosts an online blog containing articles contributed by pet, livestock, gardening, and farming enthusiasts for educational and entertainment purposes only. By reading the blog you fully agree to this Disclaimer and to the Terms & Conditions and Privacy Policy, and expressly acknowledge and understand that there are risks and limitations associated with online articles.
You understand that articles are NOT intended as a substitute for regular veterinary care for any of your pets or animals, nor for in-person veterinary diagnostics and care.
The blog articles will not be able to diagnose, treat, or prescribe medicine for your pet and you are solely responsible for reliance on any information obtained through Blog articles. If you think your pet is sick, injured, or in need of medical attention, contact your regular veterinarian or local emergency animal hospital immediately. Blog articles are NOT a substitute for emergency veterinary care and are NOT intended for advice or consultations regarding immediate emergency attention.
All questions and comments posted on Buckerfield's Blogs will be publicly available for other users of the Service. Therefore, you understand you should not post any personal or sensitive information. Furthermore, all content posted on the site will automatically become the property of Buckerfield's Ltd. and we reserve the right to edit and reproduce your questions, and to post them on our site or any other publication with our copyright.
FINALLY, YOU UNDERSTAND AND ACKNOWLEDGE THAT BY USING THE SERVICE YOU DO SO AT YOUR OWN RISK, THAT YOU ARE ENTIRELY RESPONSIBLE FOR YOUR RELIANCE ON THE CONTENTS FOUND ON THIS WEBSITE, AND THAT BUCKERFIELD'S LTD. IS NOT RESPONSIBLE FOR ANY LOSS, INJURY, CLAIM, LIABILITY, OR DAMAGE ARISING FROM YOUR USE OF THE SERVICE OR FROM YOUR RELIANCE ON THE CONTENTS OF THIS SITE OR ANY RELATED SITES.